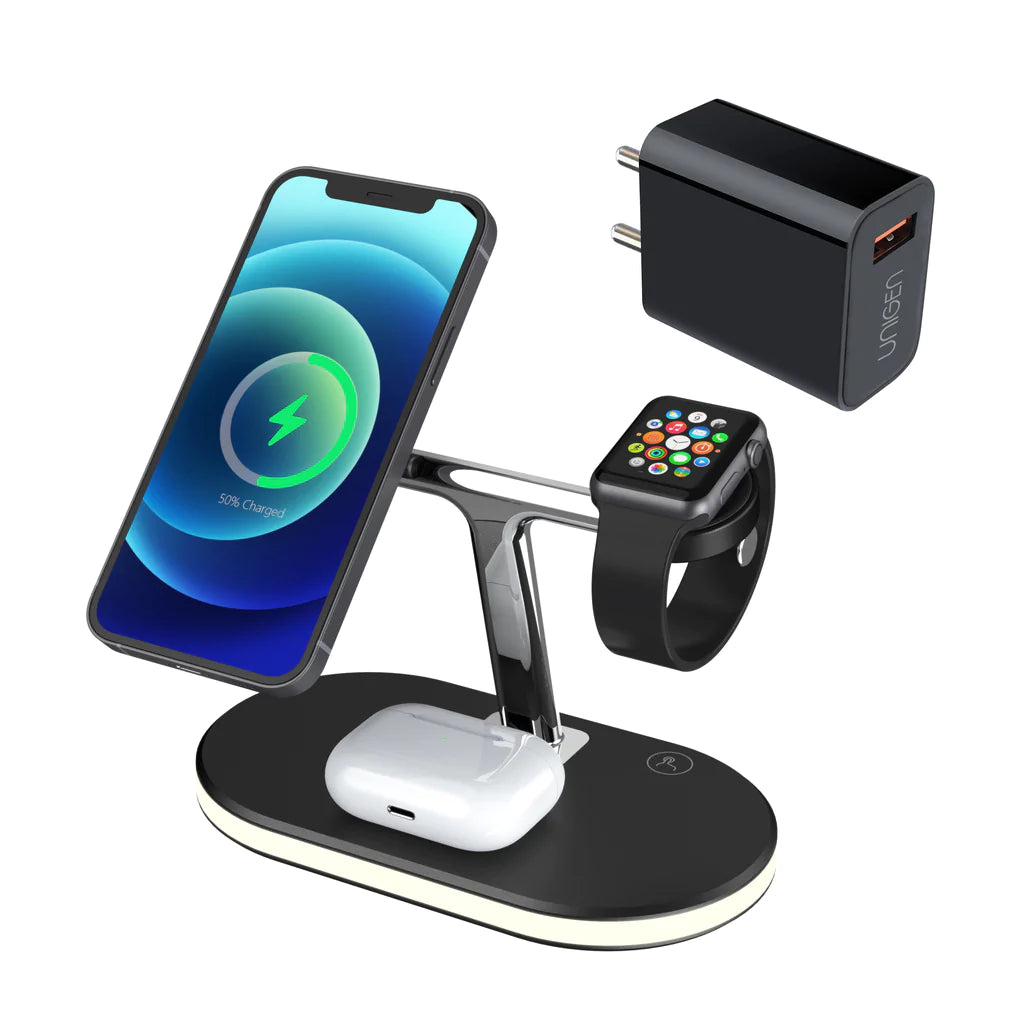 The Best 3-in-1 Wireless pads for Magsafe Charger
Chargers and charging pads have been around for a while, but the MagSafe Wireless charging pad's cutting-edge technology has completely transformed the game. Your new iPhone may be inserted into a MagSafe charger pad to receive on-the-go battery charging. These chargers are designed to make sure that your gadgets are charged quickly and at the right temperature. Furthermore, you won't have to worry about your phone overheating or neglecting to use it while it's charging. You can view your favorite shows at the best angle while keeping the charger on your desk. The two best 3-in-1 wireless stands for Magsafe charger pads are suggested below.
1. Unipad 3-in-1 Magnetic Wireless Charger
The Unipad 3 in 1 wireless charger combines three charging modules for smartphones, headphones, and watches. It can simultaneously charge three devices at a maximum power of 15W for smartphones, 5W for AirPods, and 2.5W for the iWatch, making it a convenient and effective solution to the problem of charging multiple devices. It can be used in the office, at home, on the dining table, and in the bedroom. It quickly transforms into a multiple-device phone stand. The charging plate is covered with a strong magnetic suction device, which can be used to firmly absorb iPhone 12/13/14 phones even when shaking. Charging while using makes charging less tedious. Support wireless phone charging for the iPhone and Android. Most gadgets may be charged wirelessly using the foldable charging station. every other gadget with Qi wireless support. Support wireless phone charging for the iPhone and Android.
2. Unidock 3 in1 Wireless Charging pad
Maintain order and cleanliness while charging up to three smart gadgets at once. To charge your phone while it is in standby mode, this pad may also be folded into a triangle shape. At Unidock, we place a high value on the client experience. To improve your experience with our product, we've included a Qc 3.0 quick charging adapter, a type-C cable, a travel box with waterproof material and storage compartments, a cable winder, and magnetic rings. You may view movies or videos hands-free in either a horizontal or vertical configuration thanks to the clever design of the Unidock wireless charging pad, which has a powerful magnetic suction.  When the phone is charging, a blue breathing light will be visible on the base. The blue light on the phone will always be on when it is completely charged. 
What To Look For When Buying A MagSafe Charger pad
There are a few things to think about before purchasing a MagSafe charger pad. Here are some considerations to make when purchasing a MagSafe charger pad.
Design
The appearance of the charger is arguably the least significant factor to take into account. Now, there are certain practical design considerations, such as how portable a charger is compared to how big one is. However, that may or may not matter to you depending on the type of MagSafe charger you use. For instance, a MagSafe battery pack needs to be reasonably portable. However, a bedside charging pad that is stationary won't always work.
Charging Speed
The charging rates for MagSafe products vary. The MagSafe charging pad now has a maximum speed of 15W, which can fully charge an iPhone in just under two hours. But the majority of MagSafe charging pads only provide half those rates. If you can, invest in a MagSafe charger that can operate at higher speeds.
Quality
There is no question that you need to check the quality of the charger you are buying. Over time, a leather or silicone iPhone case may develop circular ring marks from the majority of MagSafe charger pads. Make sure your charger maintains the health of your phone and case.
Brand
You should consider the brand's reputation when purchasing any gadgets, not only the MagSafe charger pad. The brand's image can have a significant impact on the charging system's overall effectiveness.
Price Efficient
Last but not least is this. Make sure you are not shelling out a fortune for something that is not worthwhile. You should get a charger pad that is worth your money. It's critical to purchase a charger that fits your spending limit. 
Conclusion
The sole reason to switch to a MagSafe charger is to take advantage of the convenience. Buying a charging pad that does not suit your demands is therefore pointless. Wireless charging is possible when you're on the go with MagSafe chargers. There are several different charging stands available, and the best ones are highlighted above. You can get the best from them at fair pricing.