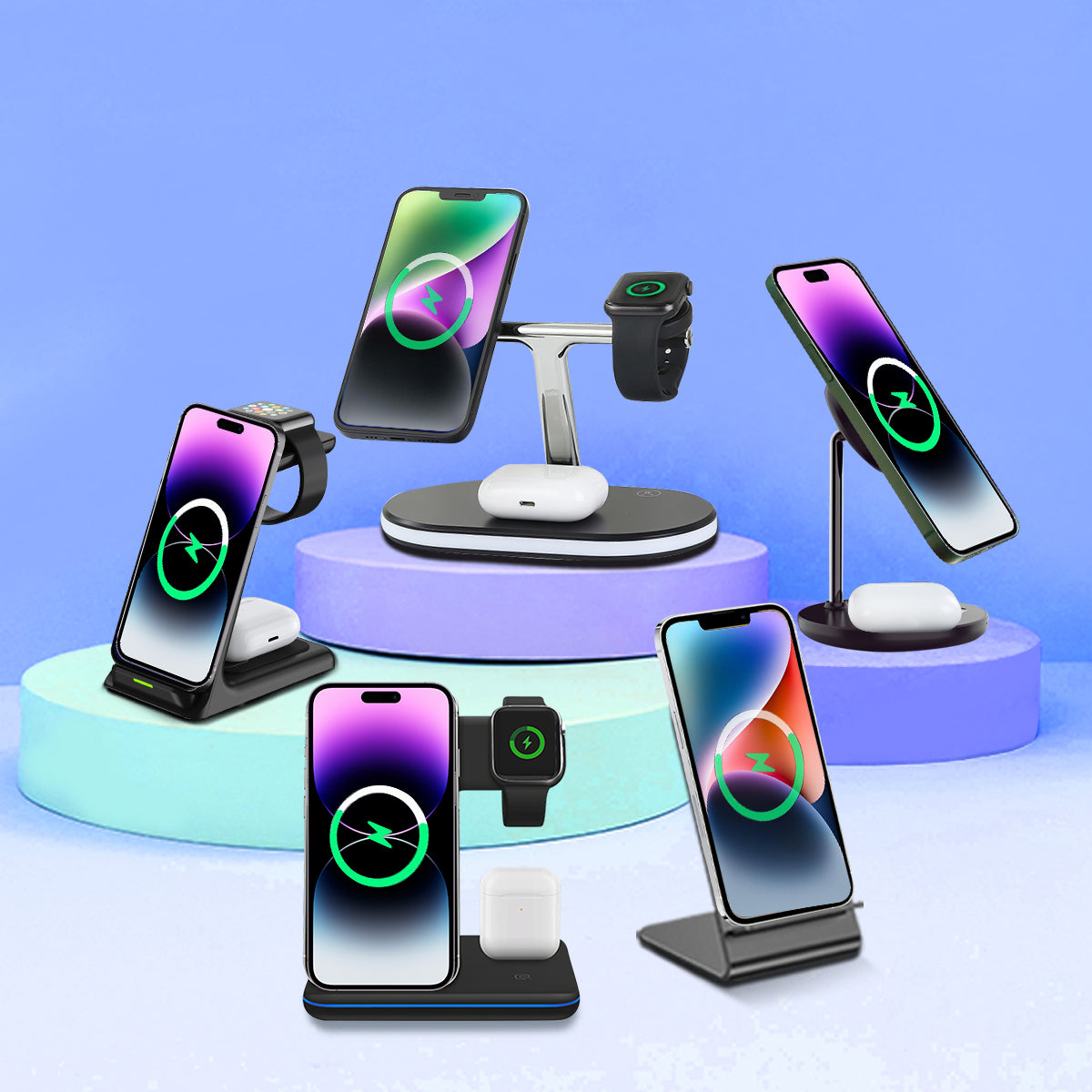 Older Apple users will recall the power connectors that the company utilized on some laptops from 2006 to 2019. These connectors, attached to a unique power port on the laptops, were created to ensure that if you tripped over a power cable, your pricey Mac wouldn't fall to the ground but would safely disconnect.
In 2020, Apple re-introduced this phrase for chargers compatible with the iPhone and specific headphones. There isn't much "Safe" about it, even though the "Mag" portion is still accurate. Yet, the name is memorable, and Apple already holds the trademark. Together with the M2 MacBook Air, which is now the only laptop that supports MagSafe charging, Apple brought this back in the summer of 2022.
Regarding cable-free charging, several tech companies use the induction charging standard Qi, which is compatible with MagSafe charging. Both transfer electricity using a pad with a transmitting coil and a receiving coil in the objects. As the magnets in Apple's MagSafe chargers and iPhones can precisely align the two rings, charging is made possible in a more effective manner.
How is MagSafe different from Qi charging?
Both methods function similarly, although Qi charging is only capable of 7.5 W while MagSafe can charge your iPhone 12 or 13 at up to 15 W (the iPhone 12 mini and 13 minis can only be charged at up to 12 W). While several phone manufacturers support Qi charging at 10 W, Apple only allows 7.5 W on its products, possibly for efficiency or safety concerns. The maximum voltage is 7.5 W when charging headphones like Apple's AirPods or AirPods Pro.
To attain the total 15 W charging rate using MagSafe chargers, Apple advises utilizing a power supply with a 20 W or higher rating.
Apple's MagSafe technology will serve as the foundation for a new standard known as Qi2, which guarantees that charges secure themselves with magnets. One issue with regular Qi charging is that it wastes a lot of energy and makes charging slower when the coils between the charger and the device are not aligned. For more effective charging, the Wireless Power Consortium (WPC) will create an induction charging standard that calls for this alignment. By the end of 2023, these new chargers and gadgets will be accessible.
What do you need for MagSafe Charging?
A compatible iPhone 12, 13, and 14 models—and a MagSafe charger are necessary for MagSafe charging. (The third-generation iPhone SE is not MagSafe compatible.) If you wish to charge your iPhone while wearing a case, you must have one that is compatible with MagSafe and has magnets arranged in a MagSafe Case Magnet Array. On a Qi charger, you can charge an iPhone 12, 13, or 14, but the voltage will be reduced. Moreover, you may recharge the following AirPod models:
Pro AirPods
Wireless charging case for AirPods (2nd generation)
AirPods Wireless Charging Case
MagSafe case
As previously stated, MagSafe cases must have a MagSafe Case Magnet Array. You can see this in this image of Apple's clear case for the iPhone 13 from the company. The straight orientation magnet ensures that some gadgets are lined up properly, while the round array magnet transmits the charge through the case to the device.
Apple offers leather sleeves with wrist straps and clear plastic, silicone, and leather MagSafe cases for its iPhone 12 models. Along with OtterBox cases, which Apple sells, several third-party vendors also provide MagSafe-compatible possibilities. You might be able to use a MagSafe charger with a fragile case that is not made for MagSafe, but the charging might not be as effective.
MagSafe charger
Although third parties make MagSafe-compatible chargers, they employ the slower Qi charging standard, making the basic $39 Apple MagSafe charger the best option for charging your iPhone. Of course, you can use any Qi charger to charge your iPhone, but the advantage of utilizing the MagSafe charger is that it provides faster and more effective charging. The Apple MagSafe charger features a USB-C socket in its cable, but to get rapid charging, you'll need a charging brick that supports USB-C at 20 W or more significantly.
If you own both an iPhone and an Apple Watch, the MagSafe Duo charger is fantastic. It is foldable and portable, making it the ideal charger to bring when traveling. Like the straightforward charging disc, it requires a USB-C to lightning connection, so you'll need the appropriate charging brick. Apple claims that a 20 W power adapter can only provide 11 W of electricity and that a 27 W or higher power adapter must provide 14 W of power when using this charger. The fact that there are two chargers inside the gadget is probably to blame for the reduced charging wattage.
MagSafe battery packs
Apple mentioned a battery pack when it introduced MagSafe in 2020, but it wasn't made available until the summer of 2021. With a MagSafe Battery Pack installed, any iPhone 12, 13, or 14 can receive an additional 40% to 70% charge. Even though it has little power, you can manage the day with it. Here are an iPhone 13 Pro's MagSafe power pack and wallet. 
It's a bit small on larger phones because it was made to fit on the smallest iPhones, the iPhone 12 or 13 mini, but it's stylish and works well with iOS, with a visible display on the screen when you attach it. The iPhone's battery widget displays the battery's level of charge.