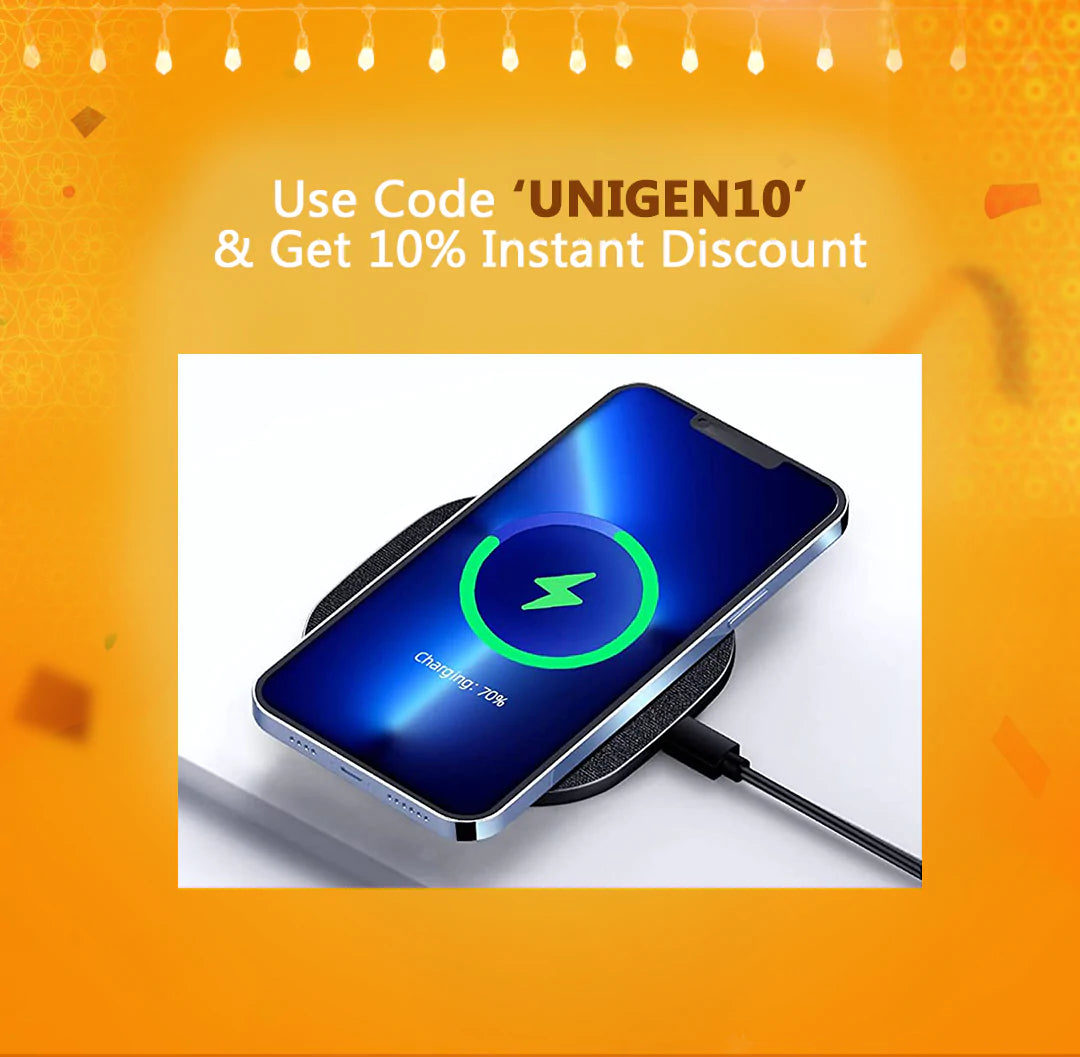 Best Wireless Chargers -2022 Buyer's Guide
For a while, best wireless charging has been an idea for more than a century. He eventually gave up on the notion and moved on to other things but the idea persisted. It was revived in more recent years for devices like smartphones, rechargeable electric toothbrushes, and rechargeable shavers. Although there are other forms of wireless charging technologies the induction charger at the center of Qi technology is by far the most widely used. The top wireless chargers available right now are gathered in the list below.
The Best Wireless Charger
1. UNIGEN UNIPAD Wireless Charger Pad | 15W Type-C PD
The slimmest wireless charger is thin and trim. enduring fashion airplane metal and simple panel. simple and current. Safe and dependable, built-in short-circuit, overheating, and overcharging protection. Clean Up Your Area
Keep your desktop tidy and organized and clear of plugs and cords. enables quick charging.
'LED Indicator Lights' are LED lights that change color. Beautiful and alerts you when the battery needs to be charged.
 The only thing keeping this charger from being ideal is its hefty price. Additionally, this isn't a great alternative for Android users due to the use of unigen unipad although you still have some excellent options as you can see from the other entries on this list.
2 . Unigen Audio Unipod 15 W USB Type C Single Port Wireless Charger Pad For Cellular Phones
It works with AirPods (including AirPods Pro with wireless charging case). The size of the AirPods fits precisely into the charging area of the wireless charging pad, making it easier to locate the "Sweet Spot" when using wireless charging. Additionally, there is a rubber ring on the top and bottom of the AirPods that acts as a grip and prevents slipping. Temperature management, surge protection and short-circuit prevention are all features of the exclusive multifunctional intelligent safeguard technology. In addition, this wireless charger is Qi-certified made of fire-resistant ABS material, and has a UL Certificate; you may buy it with confidence. You receive a sense of security from the double assurance and dual security. Please remove the phone case and use the suggested adapters for a better experience (NOT INCLUDED).
Our thin, 0.3-inch wireless charging pad is stylish, offers quick secure charging, and has air vents to prevent overheating. Even a 6mm thick case on your phone won't prevent you from charging it. Your wireless charger won't slide around thanks to the four silicone pads on the bottom. For best charging results, place your smartphone in the charger's center circular region.
Wireless Charger Buying Guide
How We Decided Which Wireless Chargers To Use
You can't argue "This manufacturer has a long history of creating high-quality wireless chargers, thus they deserve a bit of particular attention" because wireless phone chargers are a very new technology. As a result, the brand name of the goods didn't significantly influence our choice. All products began at zero and had to win a spot on our list solely based on their own merits, disregarding all other factors. Having said that, we always take the cost of such things into account because we care so much about giving our users value.
The Qualities Of A Wireless Charger
Most individuals charge their phones wirelessly at night while they are sleeping. People frequently place their phones on the nightstand before turning in for the night. Others like to maintain a wireless charger at work and leave their phone on the charging pad when not in use so that it is constantly being charged. Here are a few features you might want to consider in addition to charging speed if you're shopping for a Qi wireless charger:
Several coils - Some individuals believe that because charger Y has three coils while charger X only has one coil, charger Y must be faster. The quantity of active charging space on the pad affects charging speed more than the number of coils, which has little to no impact on it. You don't need to be careful where you place the phone down if the charging pad has three coils dispersed around its surface. It can almost anywhere pick up a charge. If there is only one coil, you must be sure to place it exactly on that coil to receive a charge.
Grip - Since the majority of people charge their phones while they are sleeping on the wireless charging pad that they keep on their nightstand, they frequently grab their phones when they first wake up. If this describes you and you are not entirely present when you awaken, you can hit the phone instead of gripping it firmly, resulting in it falling to the ground. Except if your charging pad has a non-slip, gripping surface. Additionally, you can discover when you get up that the phone didn't charge the previous night if you unintentionally bump into the charging pad and misalign the phone with the coil(s). But once more, if your charging pad's surface has enough traction, this won't happen.