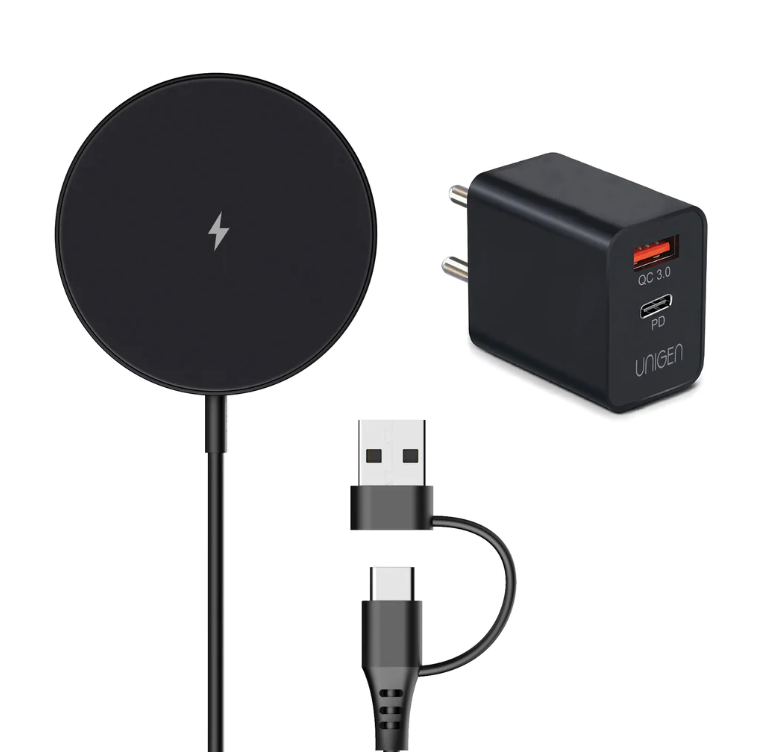 Can you use non-Apple wireless chargers for the iPhone?
As the name implies, wireless charging eliminates the need to connect a cable to your smartphone to charge it. The iPhone X, iPhone 8, Samsung Galaxy S8, or any other smartphone that supports wireless charging can begin charging its battery simply by being placed face up on a special mat or tabletop.
What do I need?
You require two items. The first is a smartphone that supports wireless charging, or if one doesn't already, a case you can add to add wireless charging.
A wireless charger is the second item. These tiny pucks or mats, which start at around £10, come in a variety of sizes and shapes, from larger items that resemble mouse mats to tiny discs built into furniture.
Is it faster?
For smartphones with fast-charging technologies, like the Galaxy S8, wireless charging is typically slower than charging with a cable.
Modern, higher-powered wireless chargers can fully charge a smartphone with a large battery in around two hours, but some are faster than others. They are often rated by output amperage, with 1A at 5V wireless chargers equal to a regular 1A USB cable charger like the one that comes with the iPhone 7, or by wattage, with 5W and 10W chargers being prevalent.
What's 'Qi' wireless charging?
There are a few competing standards in the wireless charging sector for portable devices like smartphones. Most smartphones are compatible with most chargers because they support both the PMA or AirFuel Alliance and the Wireless Power Consortium's Qi standards.
The most widely used wireless charging technology is Qi, which Apple uses for its new iPhone 8 and iPhone X models.
How does it work?
For wireless charging to work, energy must be transferred from the charger to a receiver on the back of the phone using electromagnetic induction. The phone's reception coil turns an alternating electromagnetic field produced by the charger's induction coil back into energy before being delivered into the battery.
Although a certain orientation is often not required, they must typically be close to one another and properly aligned above one another.
Since the 1990s, rechargeable toothbrushes and other bathroom equipment have been charged inductively.
Does the phone heat up?
Yes, the backs of most phones and certain chargers get a little warm while using wireless charging.
Since smartphones often warm up a little when charged via cable, the difference is negligible and shouldn't cause concern.
However, if it starts to grow too hot, it might be an issue with the battery, similar to Samsung's flammable Galaxy Note 7.
Exist any drawbacks?
The major drawback is that, with current technology, wireless charging cannot be done through metal. Since glass is more fragile than plastic, the majority of wirelessly charging smartphones feature glass backs.
Additionally, depending on the phone and the charger, it might not function in thick cases, although typically functions in thin plastic cases.
Will wireless charging become a popular technology?
Even though the standards for wireless charging have been in flux for years, wireless charging is expected to soon become a mainstream feature of smartphones because the majority of devices either support multiple standards or at least Qi. Qi is expected to become the de facto standard moving forward thanks to Apple's acceptance of it.
Conclusion
You can use any wireless charger as long as it is compatible with the wireless charging protocol that is supported by your smartphone. With its new wireless charging cover, Apple's AirPower wireless charger can charge multiple Apple products at once, including the Apple Watch and AirPods.