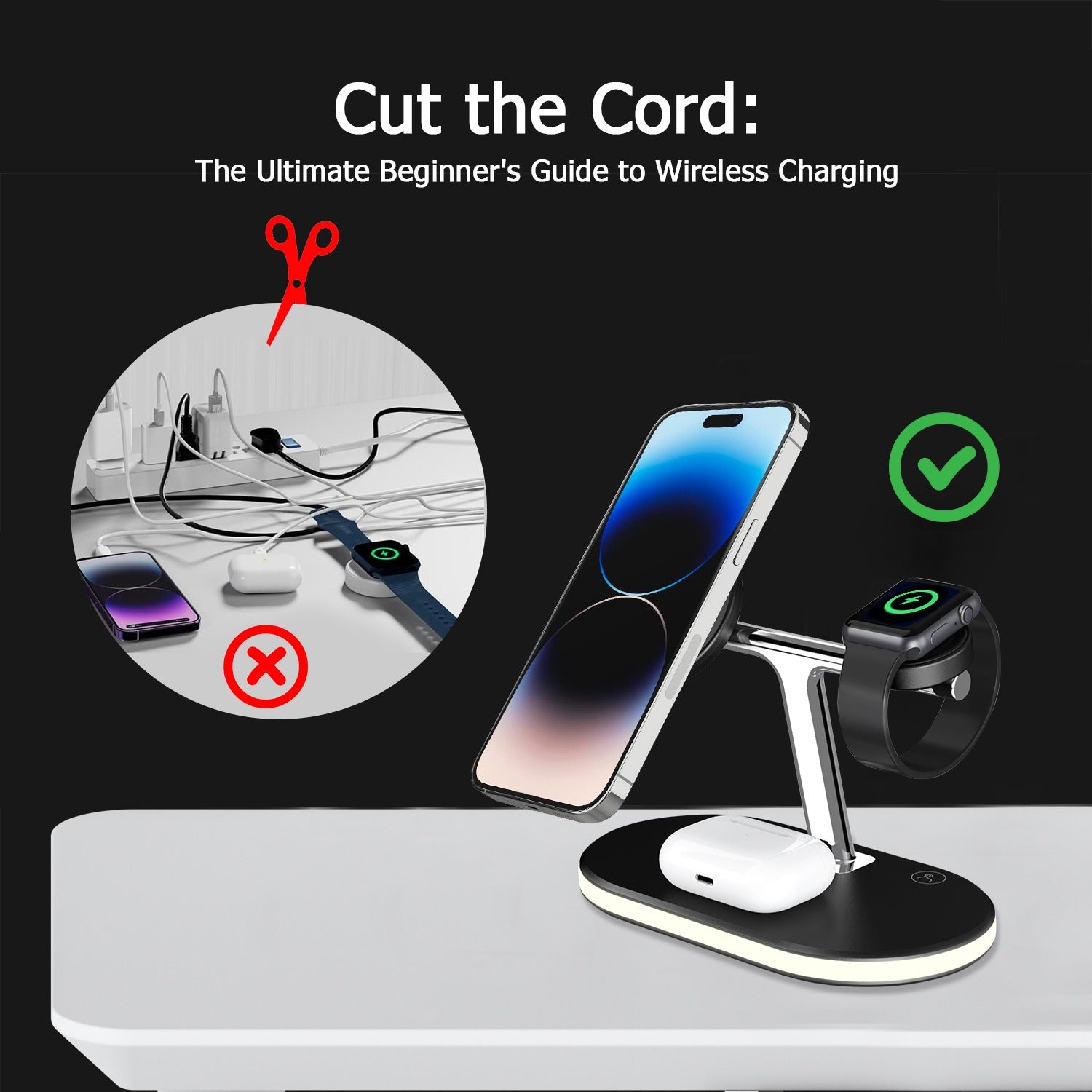 Cut the Cord: The Ultimate Beginner's Guide to Wireless Charging
Wires have been an annoyance for almost everyone since the development of technology. With each new item we add to our collection, the hassle grows—from tangling up in your backpack to tangling up with other wires at home. What would happen if that changed? What if you only needed a wireless charging pad to power your devices wirelessly? 
Thanks to improvements in wireless charging technologies, powering devices without wires and cables has been much easier recently. Whether they are used for smartphones or other cutting-edge electronics like headphones or smartwatches, wireless charging pads are increasing on the market. But there are some questions you need to ask before buying one.: 
Also Read: The Benefits of Using a Wireless Charging Mat over Traditional Charging Methods
How does wireless charging technology operate, and what is it? 
Which wireless charging pads on the market are the best? 
How fast, effective, and secure is wireless charging compared to wired charging? 
What is the Best Advice for Picking the Best Wireless Charger for Your Phone?
We'll thoroughly introduce wireless charging in this article and address your questions. 
Wireless Charging Pads 
Sending electricity from a wireless charging pad to your device is the fundamental concept of wireless charging. Your device receives power from the charging pad. It contains an internal transmitter that sends electromagnetic field-based energy to your device, with a receiver that recharges the battery. Without using any cords or connections, a current is generated when your device is put on the wireless charging pad by the electromagnetic field it creates. 
Which are the Best Wireless Charging Pads 
Wireless charging pads are widely accessible, but not all are the same. It would help if you considered the brand, price, charging speed, efficiency, durability, and design while selecting the best wireless charging pad. The best wireless charging pads available right now are listed below: 
Also Read: The Future of Wireless Charging Technology: What to Expect
Best Overall: unigene Wireless Charging Pad  
Best Affordable:  Magsafe Charging Pad 
Best for iPhone: Apple Wireless Charging Pad 
Best for Android: Samsung Wireless Charging Pad  
Wireless Charging Vs. Wired Charging 
Technology for IQ wireless charging is practical, quick, effective, and secure. Charging wirelessly without having to plug in and out of wires is one of the main advantages. It also permits charging several gadgets at once. 
Wired charging does have certain benefits, though. For big-capacity laptops and tablets, a cable charging connection, for instance, can transfer a continuous power supply. In general, corded charging is quicker than IQ wireless charging, though this is slowly changing as technology develops. 
The Best Wireless Charger for Your Phone: How to Pick One
1. Verify if it is compatible with your phone.
Before purchasing a wireless charger, confirm that your phone is compatible with wireless charging or can be made so with an add-on, such as a wireless charging case. The most widely used wireless charging standard is Qi (pronounced "chee"), which well-known smartphone makers like Apple and Samsung back. Make sure your device is Qi-compatible, or choose a charger that complies with the wireless charging standard that your phone supports.
2. Check the output power and charging speed.
The power outputs and charging rates of wireless chargers vary. Look for the best wireless charging pad for fast charging for your device when selecting the best one. Remember that the compatibility of your phone and the charger determines the best charging speed. Some chargers, like the best wireless charger for the iPhone 11 Pro, are made especially for specific devices.
3. Think about the quantity of charging coils.
More charging coils on a wireless charger mat allow for more flexible device positioning and improved charging efficiency. A bigger charging surface made possible by numerous waves makes it simpler to line your phone with the charger and even allows for wireless charging of multiple devices simultaneously.
4. Focus on design and construction quality
Choose a wireless charger with a look that complements your taste and sturdy construction. Important considerations include the charger's size and design, non-slip surface, and cable quality. Admirable build quality and design are offered by official chargers like the Apple wireless charger India, providing long-lasting performance.
Also read: How To Choose A Wireless Charger For Your Phone
5. Look for additional features
Some wireless chargers have additional functions that can improve the charging process, like:
 

Multi-device charging: Phones, smartwatches, and earphones can all be charged simultaneously by chargers with multiple charging pads or larger surfaces. 
 LED charging indicators:

These show the charging state and provide a visual cue when your phone is positioned correctly and charging.
Built-in cooling systems:

Fans or heat-dissipating materials, which prevent overheating, guarantee that your charger and phone remain cool when charging.
Also Read: Does wireless charging harm battery health - myth or reality?
6. Compare the prices of available options
With various brands offering wireless chargers at different prices, comparing options is essential. While the iPhone wireless charger price in India or the Apple wireless charger price in India may be higher than third-party options, official chargers often provide assured compatibility and quality. 
Conclusion 
By eliminating the nuisance of wires, wireless charging mats have made it possible to charge electronics without cables. However, each technology has benefits and drawbacks, so you must decide which best meets your goals. We hope that our guide has provided you with enough details to enable you to select your wireless charging pad with confidence.