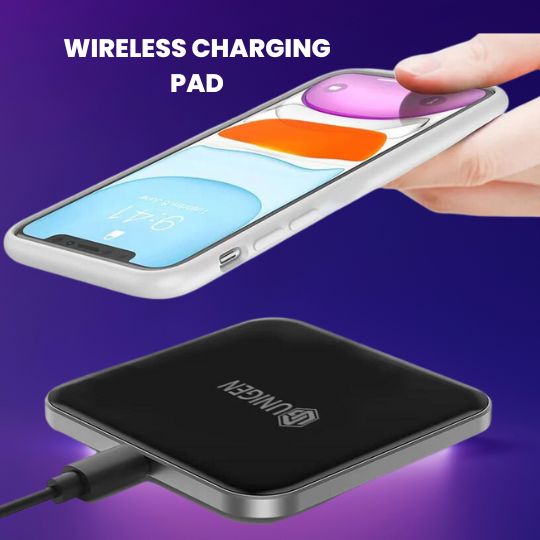 The Benefits of Using a Wireless Charging Mat over Traditional Charging Methods
Wireless charging pads and wireless chargers are a relatively new technology for mobile devices. Without using a cable, you can use it to charge your smartphone. A line is nonetheless utilized differently. Here, we'll go through its operation as well as its advantages 
A charging pad, plate, pillow, or pod is used for wireless charging; it is connected to a power source by a cable. Your compatible phone is charged using electromagnetic waves when you place it on the pad, making the final mile of the charging process wireless.
Only a cell 3 in 1 wireless charger Apple compatible with a wireless charger will function because not all smartphones have wireless charging capabilities. Making sure your smartphone supports wireless charging is the first step, therefore. See our prior post, How Wireless Charging Works, for more information.
How Wireless Charging Works
Of course, wireless charging isn't wireless. Without using wires, you can charge your phone, wristwatch, tablet, wireless headphones, or another device, but the wireless charger still has to be plugged into a wall outlet to work.  Apple's Phil Schiller said that "having to create another device you have to plug into the wall is, for most situations, more complicated" when the iPhone 5 was released without the wireless charging functionality featured at the time in competing Android and Windows phones.
After five years, Apple wireless charger India has revised its position. Apple's iPhone 8, iPhone 8 Plus, and iPhone X devices all support wireless charging thanks to the Qi open standard.
Also Read: Does wireless charging harm battery health - myth or reality?
Magnetic induction is commonly used in wireless chargers. They transmit energy through magnetism, to put it simply. The gadget, such as a smartphone, is first placed on the wireless charger. A magnetic field is produced when the electricity from the wall outlet passes through the wire in the wireless charger. The gadget resting on the wireless charger's coil experiences a current due to the magnetic field. The battery is charged using the electrical energy that was once magnetic. To support wireless charging, devices must contain the essential hardware; a device without the required coil cannot charge wirelessly.
The advantages of using a Wireless Charger
Convenience:The main advantage of wireless phone charging is that a cable is not required. Place it on the plate and continue working or having fun. You pick up the phone if it rings and drop it when finished. You don't need to be concerned about becoming tangled in a cable.
A second benefit is more relevant to those who live and work in locations prone to power surges: power surge protection. In the event of a power surge, the smartphone is somewhat protected by the lack of a direct cable connection. Because "the

Apple wireless charger mat

cannot pass increased voltages onto your smartphone,"  this is the case. In the worst-case scenario, the charging pad is ruined, but your smartphone is not. 
Also Read: How To Choose A Wireless Charger For Your Phone
The 3 in 1 charging stand

charges just as quickly as cords do. The rating of the charger you purchase will determine this. Faster than an 18W cable charger is an 18W wireless charger. So look at the rating while buying a

The 3 in 1 charging stand

. This will prevent you from purchasing one rated lower than your phone can handle.
Wear-and-tear Protection: Use a wireless charger to guard against damage to your smartphone's charging port. One of the most frequent problems with mobile phones is damage to the charging port. The lifespan of your smartphone increases with how frequently you plug it in and unplug it from USB ports.
How fast is wireless charging?
Depending on the phone and charging pad combo you're using, Qi-certified charging pads (see more on these below) have an output ranging from 5W to 15W. Although specific wireless chargers can produce larger wattages under particular conditions, this is probably slower than conventional charging blocks, which typically range between 20W and 30W on average. For instance, only specific Huawei phones can use the SuperCharge adaptor from Huawei, which has a maximum 25W charging capacity.
Which Are The Qi-Enabled Phones?
There are a lot of smartphones with qi-certified wireless charging mats available. This is due to the Qi standard's enormous popularity, which has made it the de facto wireless charging standard for smartphones. Smartphones with Qi support are made by several companies, including Apple wireless charger prices in India, Samsung, Nokia, LG, Huawei, Xiaomi, Sony, and Sharp.
To find out if the phones you want enable wireless charging, check their specifications page.
The wireless charger of the future 
Overall, there are more benefits to wireless charging than drawbacks. While it applies to everything, its advantages might not be your top priority.
Also Read: The Future of Wireless Charging Technology: What to Expect
Should I purchase an iPhone wireless charger in India? The first consideration is if your smartphone is compatible with the technology. Then you may decide if buying one is financially and physically worthwhile. 
But wireless charging technologies will continue to exist. In the years to come, 3 in 1 wireless charge will develop.