Magtec 500 - 5 in 1 Magsafe Charging Station
Rs. 3,599
Rs. 7,999
Inclusive of all taxes.
---
Details

The UNIGEN MAGTEC 500 is a stylish and efficient 5-in-1 Mag-Safe Charging Station for iPhone, Apple Watches, and AirPods. It features multiple charging ports, a built-in LED lamp, and secure Mag-Safe technology.
Specifications

MATERIAL: ABS
DIMENSIONS: 18.5 (L) x 15.5 (W) x 6 H) cm
PACKAGE CONTENTS: 1x Magnetic Wireless Charging Station, 1x User Manual, 1x USB Type A to C Cable, 1x USB Type C to C 1x Metal Ring
CARE: Keep it in a cool and dry place, away from the reach of children.

Compatibility

DEVICES
Magsafe
iPhone 15 Series
iPhone 14 Series
iPhone 13 Series
iPhone 12 Series

Non-Magsafe

iPhone 11 Series
iPhone X Series
iPhone 8 Series
All other Qi-enabled phones

All Apple Watch Series
AirPods Pro
AirPods (3rd generation)
AirPods (2nd generation)
All other Wireless Compatible Earbuds

Delivery & Returns

DELIVERY

Dispatch to Courier in 2-3 Days.

Eligible for Cash on Delivery.

 

FREE SHIPPING

Shipping is free for all prepaid orders.

 

CASH ON DELIVERY

Rs.50 extra charges for all Cash On Delivery orders.

 

RETURNS

The item is eligible for replacement within 7 days of delivery, in the unlikely event of a damaged, defective or different item being delivered.

Please keep the product in its original condition, with the brand outer box, MRP tags attached, manual etc. for a successful replacement pick-up.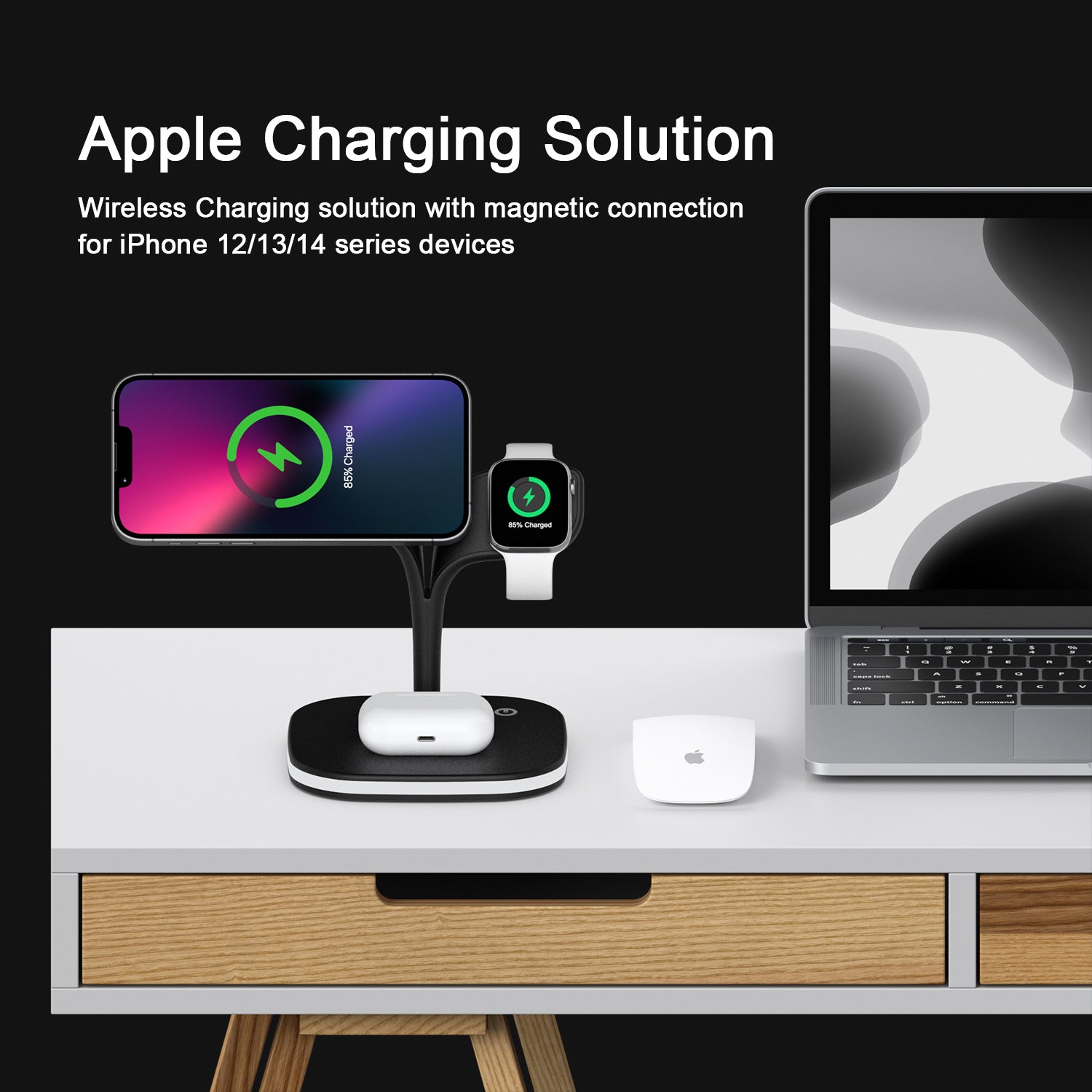 Perfect Magnetic Alignment
This 3 in 1 magnetic wireless charger lets you snap your Apple devices magnetically into perfect alignment with only one hand. Just place your iPhone 12/iPhone 13 series on the charging stand and the advanced magnetic technology could adjust the charging position automatically and provide efficient charging.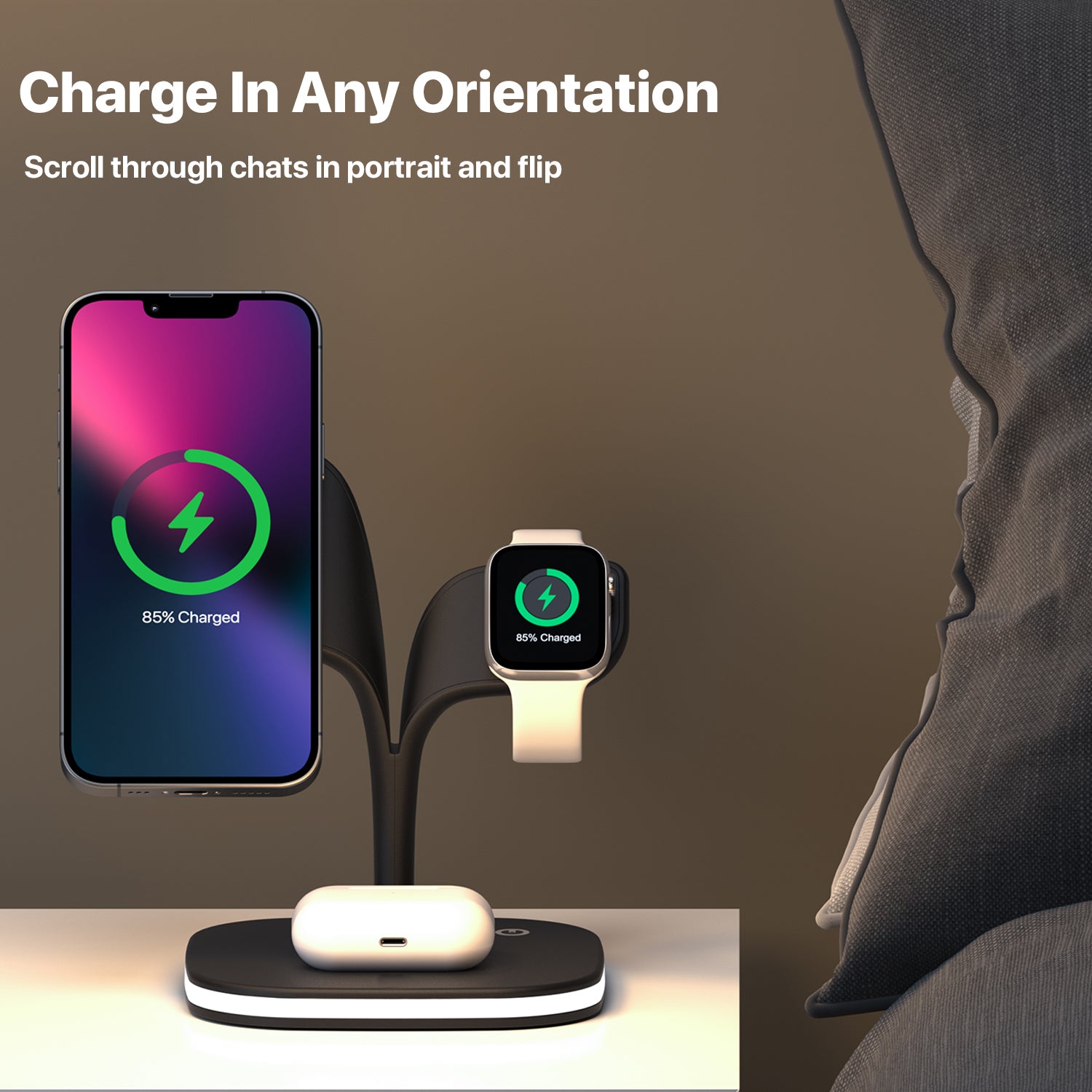 Charges All Your Devices
Features built-in charging modules to quickly power your iPhone 13 (7.5W), Apple Watch (2.5W), and AirPods Pro (5W) at the same time – so whether you need a quick boost in between meetings or you're recharging your devices overnight, we've got you covered.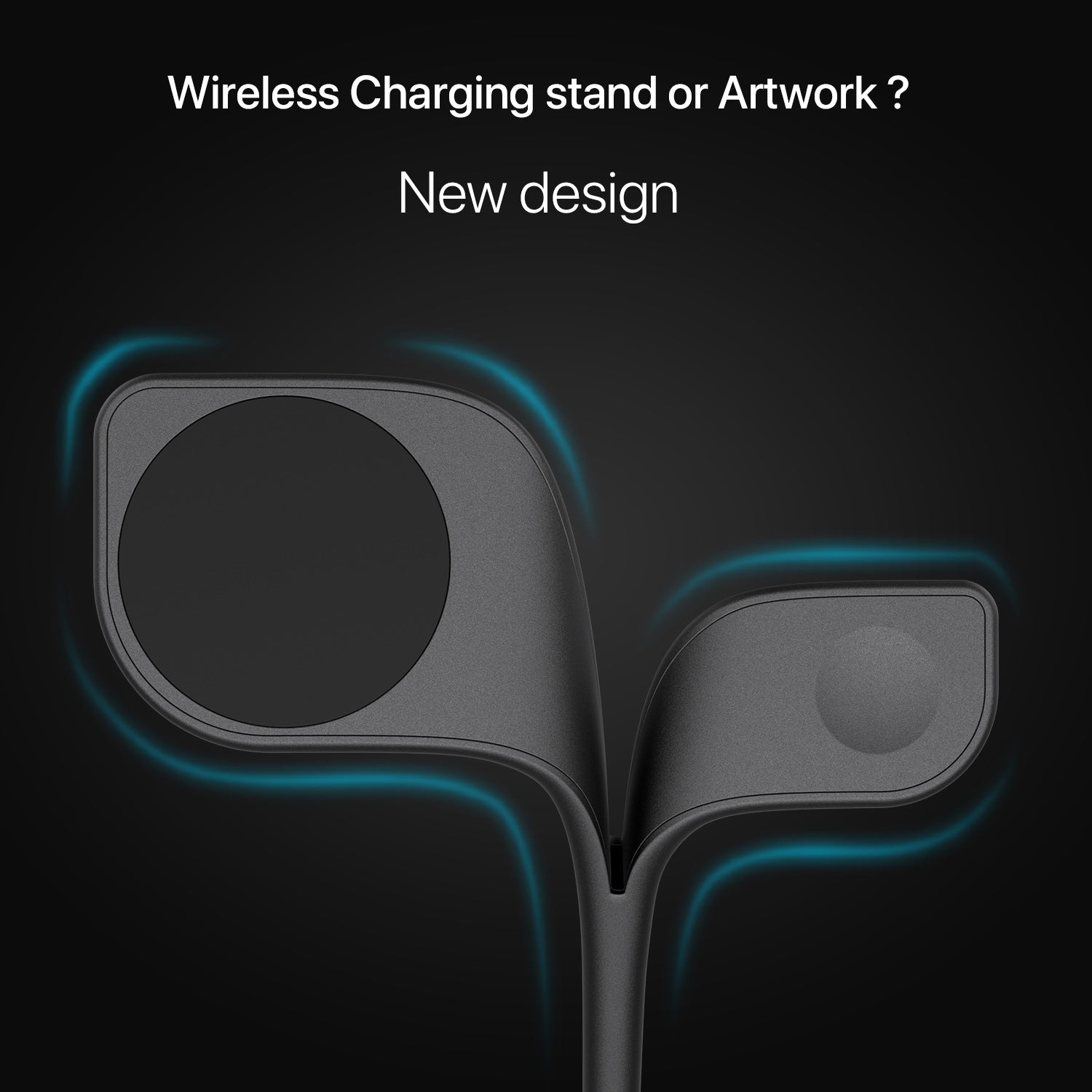 Easy Magnetic Connection
Equipped with an easy-to-use magnetic connection to keep your iPhone in perfect view and works either in Portrait or Landscape mode – ideal to answer FaceTime calls or reply to messages while charging.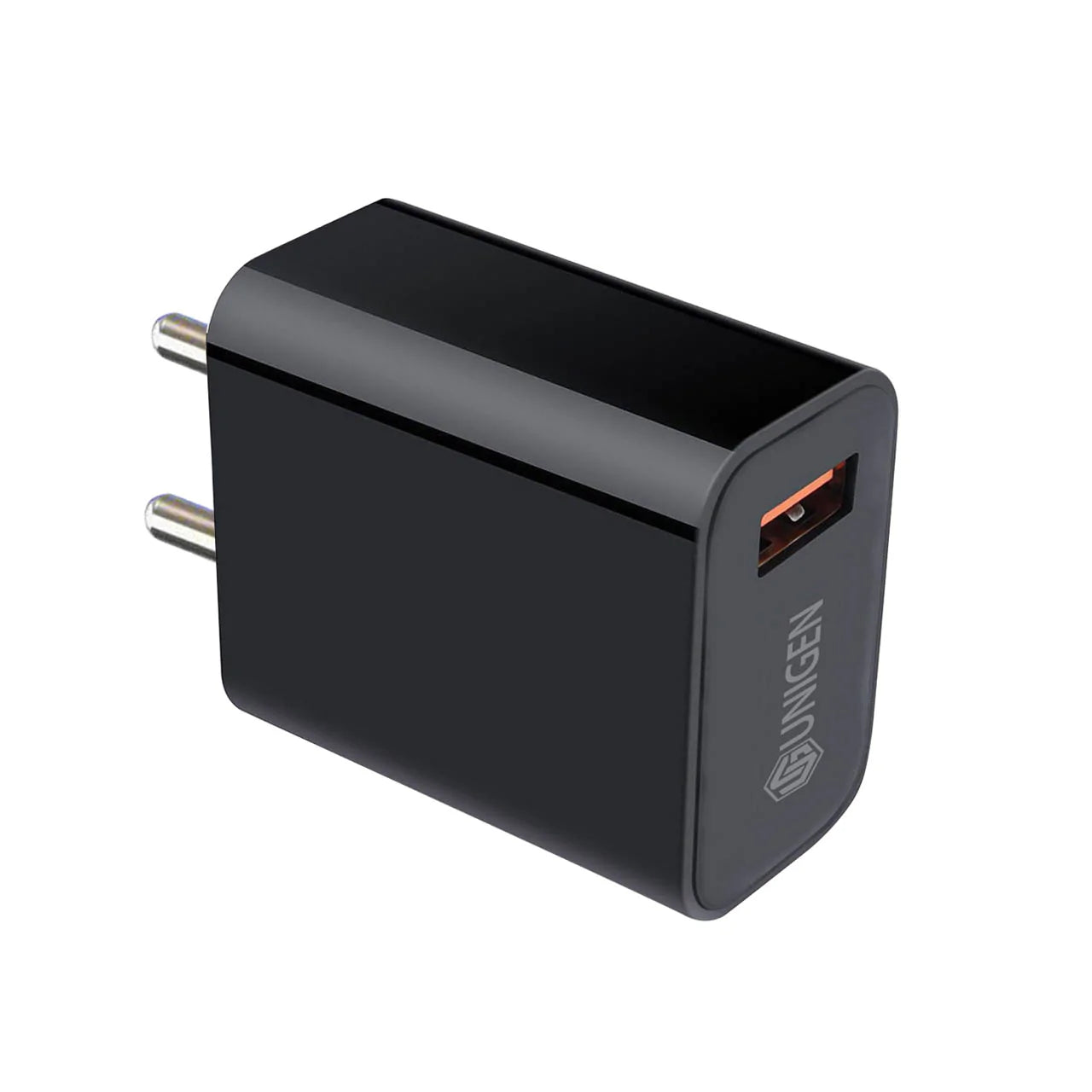 18W Q.C. Adapter
We recommend use of 18W Q.C. Adapter to achieve fast and efficient charging for all your devices. The 5W apple in-box adapter not be able to deliver fast charging with Magtec 300.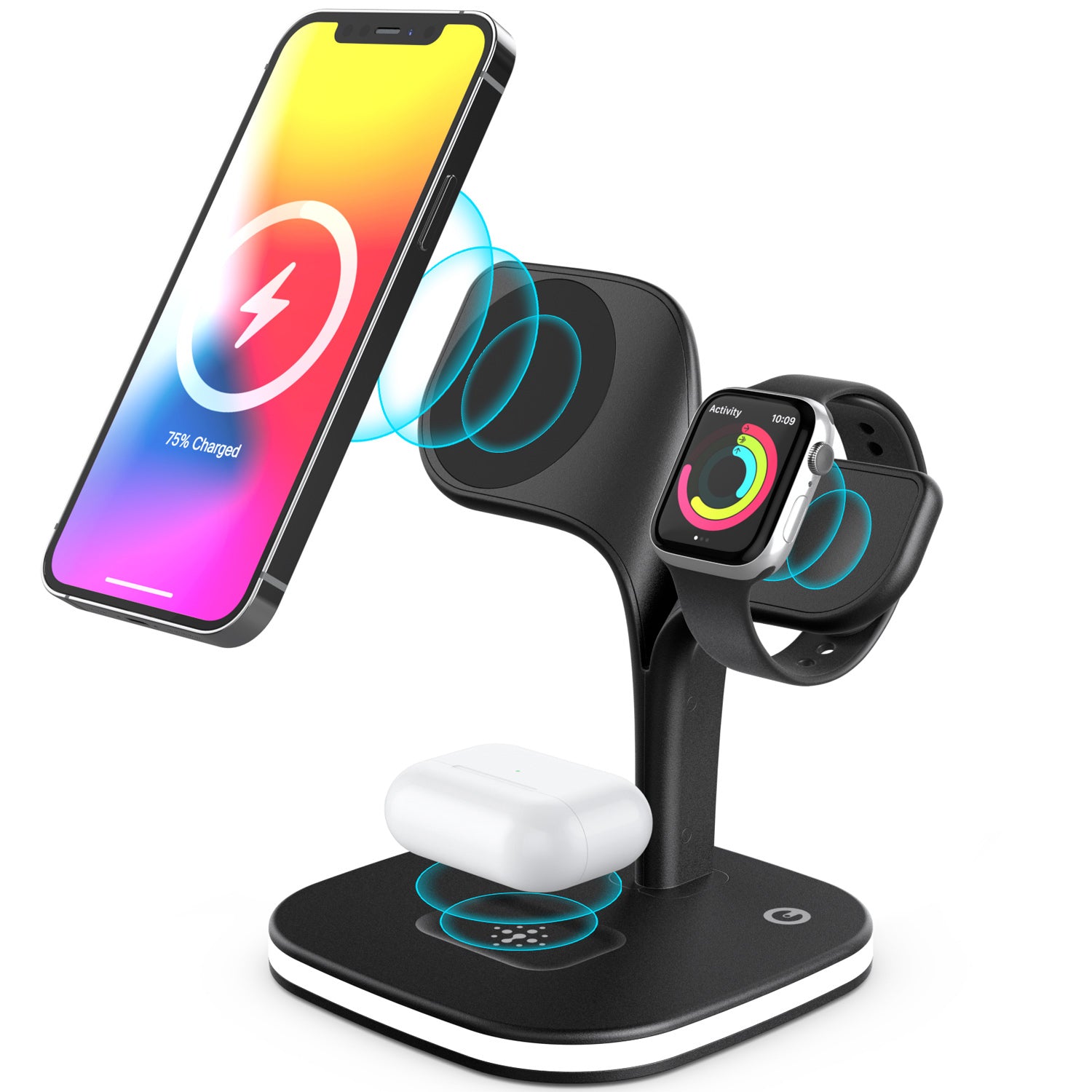 High Compatibility
This wireless charger station is for iPhone 15, 14, 13, 13Pro, 13Pro Max, 12, iPhone 12 Pro, iPhone 12 mini, iPhone 12 Pro Max; for Apple Watch 2/3/4/5/6/7/8; for AirPods 2/3/Pro. Besides, 5W earphone plate of this wireless charging stand is also compatible with earphones like Galaxy Buds and Liberty Air, or other Qi-certified phones.
Declutter your Charging points
Works exactly like its shown
1) Pros - feels super premium. Better than it actually shows in the photos
2) declutters the entire charging spot. One wire does it all
3) Iphone charging speed isn't bad at all. The magnets are strong enough to give you confidence on the product
4) night lamp light is great. 3 levels of lighting are perfect for the amount of light you need.
Cons
1) Doesn't come with a charger. I am using the standard 20W apple charger
2) the watch magnet isn't strong enough. Watch may not hold if you use a metal/custom heavy strap
Excellent product with high quality premium finish.
Good wireless charger for multiple devices. Build quality is good.
Happy with the product!
Great product! I absolutely love the quality and they have not compromised in the quality of accessories as well, My dog ate my original apple watch charging cable and it was costing me around 2900Rs just for the cable only from the store, that is why I switched over this and the company has provided type c to c cable and another type a to c and both of them are of good quality!!! The product look premium. If you are looking for a wireless charger then just go for it. Invest in it one time you wont regret it.
If I have to pinpoint some negative points then it be the front Badging of the company, I did not like the style of it (just my perspective) without it, it could look more premium
Charges all 3 devices concurrently
Slow charging but understandable as charges all the devices at the same time
Apple Watch 9 doesn't stick the best but the charging still happens
Works well with iPhone 15 Plus
Great Product
Overall
- A great Product
Likes
- Quickly charges my phone
- Charges all my devices together (iphone airpods and iwatch)
- No more tangling of wires and chargers
Dislikes
- Heats up a little when all the devices are charged together
Frequently Asked Questions