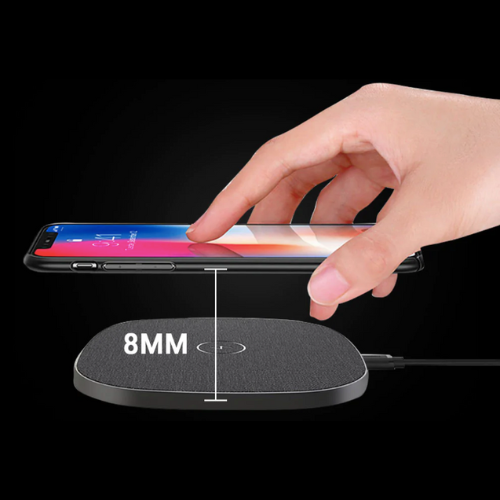 What's the Difference Between Wireless Charging and MagSafe?
It is extremely rare for wireless charging and MagSafe to be confused, as their functions appear to be very similar. But you must comprehend what wireless charging and MagSafe mean and how they work to be able to use them.
One of the simplest, safest, and quickest ways to charge your device without passing cables around is wireless charging.
How Wireless Charging Functions
Electromagnetic induction, which transfers energy from the charger to the back of your cell phone, is how wireless charging functions. The receiver coil of your gadget converts the energy from the alternating electromagnetic field (energy) that the charger produces into energy to charge your battery.
Instead of using a magnet to charge a coil of wire without touching it, electromagnetic charging (also known as inductive charging) creates a magnetic field using its coil of wire and electricity flowing through it.
If the two coils are close enough, the magnetic field produced by the current in one coil may induce a current in the other coil.
I am aware that there are roughly two lectures on the physics of electromagnetic principles, but let's simplify the material so that you can grasp it.
Fundamentally, electromagnetic waves are what make wireless charging work. Another lesson in physics? No, however, they are important phrases to know to comprehend how wireless charging works.
Wireless charging is based on the characteristics of magnetic fields and how they affect other magnetically sensitive objects, to put it simply.
MagSafe
On the other hand, iPhone 12 models and other more recent iPhone models have Apple's MagSafe technology in their inside design.
For a new set of accessories that allow for simple connection and quicker wireless charging, MagSafe was added to the iPhone 12 and other current iPhone handsets.
The iPhone 14/13/12 series, which has built-in MagSafe technology, is a typical example. You would typically see the notice in the form of tags that read "MagSafe compatible" on their product accessories like chargers and phone cases.
How magsafe Charging Functions
The iPhone 12 and other more recent iPhone models have a collection of magnets called MagSafe that are placed around the internal charging coil.
Other MagSafe-compatible accessories are detected by this internal charging coil, which then firmly locks it into position. You shouldn't worry about other magnetic sources attaching to your device because MagSafe will only attach to other MagSafe-compatible accessories.
Therefore, if you own an iPhone, you may have noticed a set of rings at the back of your device. These rings are known as coils, and they allow the energy that enters your device to be transformed into energy when you plug it in.
The Difference Between Wireless Charging and MagSafe
When you need to charge your gadget at any time of day, one of the simplest solutions is wireless charging. Alignment is crucial when utilizing a wireless charger, though. Your device receives more power and charges more quickly when it is positioned correctly on the charging board.
Apple, on the other hand, developed an alternative method of charging your iPhone using a MagSafe charger.
With its array of magnets for alignment and connection, the MagSafe can provide your iPhone with 15 watts of electricity (instead of 7.5W or 10W as is the case with conventional chargers). Since the magnets guide the phone to the ideal position, there is no power loss, which was a common problem with Qi chargers.
Apple used an NFC sensor and a gyroscope to determine whether the charger or other device is connected due to MagSafe's compatibility with other accessories.
Additionally, you can choose to leave your MagSafe charger on your iPhone thanks to Apple's clever usage of the new connection. 
If the case is MagSafe compliant, the charger is plugged in, and power is transmitted to your phone through the case. However, you need not worry if you do not already have a MagSafe-compatible case cover since I would suggest getting a MagSafe phone case.
To the back of your phone, you can attach Snap-On magnetized accessories like magnetic wireless charging pucks and wallets that hold your cash and credit cards.
Most MagSafe chargers may be used to charge other Qi-compatible devices, including older iPhones and Android phones, but there is no magnetic stickiness.
Therefore, you should choose MagSafe chargers if you have specific requirements for a quick charge. For that reason, I'd suggest this MagSafe wireless charger category, which can give your gadget a quick page. There is a tonne of them that you may locate; make sure to look through them all before choosing.
On the other hand, you can choose from other sorts of chargers if you don't particularly care how quickly your gadget charges.
Conclusion

 
Overall, you must comprehend the distinctions between wireless and MagSafe chargers because they will affect how you decide which kind of charger to get for your device. I sincerely hope this was useful.
Unigen Wireless Charger Review: