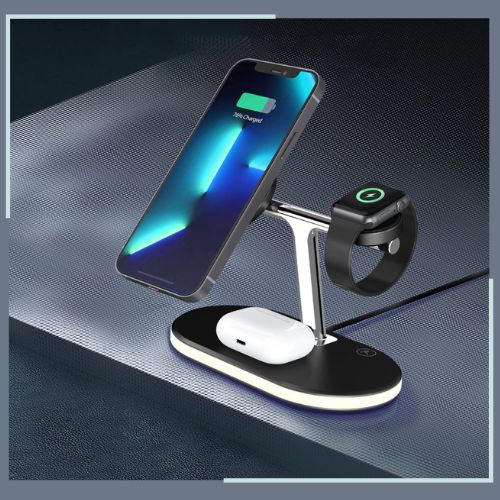 Wireless Charging Solutions for the Latest Apple Devices: A Comprehensive Guide
Wireless charging has revolutionized the convenience of modern technology. For Apple device users in India, knowing the best wireless charging solutions, including their prices, will make life easier. This comprehensive guide explores the best wireless chargers available in the market, featuring the Apple wireless charger, MagSafe charging station, and more.  
Modern technology's convenience has been revolutionized by wireless charging. Knowing the best wireless charging options, as well as their costs, would make life simpler for Apple device users in India. The Apple wireless charger, the MagSafe charging station, and other top wireless chargers are all covered in this extensive overview.  
The iPhone Wireless Charger Price in India 
The market for iPhone wireless chargers is very diverse, offering various goods at various pricing points. We will review the top wireless options accessible in India without sacrificing quality to assist you in making the best decision. While some wireless chargers, like the Unigen Wireless Charge Streampad, can cost as much as INR 2,500, Apple's MagSafe wireless charger can be purchased for about INR 3,500. Although the price of an iPhone wireless charger in India might start at INR 1,000, be sure to read the product details before buying.
Apple Wireless Charger and its Price in India 
The MagSafe charger, Apple's certified wireless charger, is made to give a smooth charging experience for the most recent iPhone 12 series. The MagSafe charger instantly aligns with your iPhone thanks to its magnetic mechanism, resulting in a wireless connection every time. For those looking for the most appropriate device charger, this Apple wireless charger costs INR 3,500 in India, making it a worthwhile investment.
MagSafe Charging Station 
The MagSafe charging station is another crucial wireless charging option from Apple besides the MagSafe charger. It simultaneously charges several gadgets efficiently, including AirPods, Apple Watches, and iPhones. The station offers a sleek architectural form and magnetic alignment. The cost of various MagSafe charging stations varies. Costing over INR 13,000, a premium Samsung BoostCharge PRO station with MagSafe is available.
Apple Wireless Charger India - Wireless Charging Mat
Users can charge many devices at once using wireless charging mats. The Apple Wireless Charger Mat, also known as the AirPower, was supposed to go on sale in India, but it was postponed due to technical difficulties. However, several reputable manufacturers, such as Apple and Magsafe, sell multi-device wireless charging mats for between INR 3,000 and INR 8,000. Always check that the charging mat is Qi-compatible and can power your gadgets.
3-in-1 Wireless Charger
With the 3-in-1 wireless charger, you can charge your iPhone, Apple Watch, and AirPods while organizing your workspace. Innovative 3-in-1 solutions are offered by companies like Samsung and Unigen in India, with costs ranging from INR 5,000 to INR 15,000. Pick a charger compatible with your devices, has a well-designed structure, and supports fast charging.
Multi-Device Wireless Charger - A Powerhouse
A multi-device wireless charger will save you space and make your life easier. Charge all your devices, including those made by Apple and other manufacturers, simultaneously. Multi-device charging stations are available from Samsung, Megsafe, and Unigen for prices ranging from INR 4,500 to INR 12,000. Before purchasing, verify the compatibility, charge rate, and design. 
Conclusion 
It's easy to get overwhelmed by the vast array of wireless charging solutions in India. But by analyzing Apple wireless charger prices, 3-in-1 charging stations, MagSafe charging stations, and multi-device wireless chargers, you can make an informed decision. Enhance your charging experience today by investing in a suitable wireless charger.