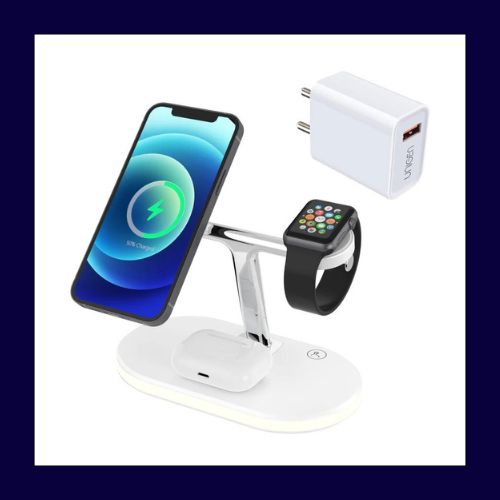 Choosing the Right MagSafe Accessories: A Guide to Maximizing the Potential of Your Apple Devices
For Apple products, MagSafe technology has wholly changed the wireless charging pad. Selecting the top MagSafe accessories on the market is essential to get the most out of your devices. This article discusses things to consider when buying MagSafe accessories, including wireless charging pads, wireless charging stations, and multi-device wireless chargers. To help you make wise choices and fully utilize the capabilities of your Apple products, we will concentrate on the affordable, compatible, and dependable options available in India.
MagSafe Wireless Charging Pads
A wireless charging pad makes it simple and convenient to power your Apple devices. A great MagSafe charging pad makes sure that your iPhone or other compatible devices may be connected securely and efficiently, enabling quick and effective charging. The finest Qi wireless charging pad should work with other devices that accept Qi charging in addition to your Apple products. When examining your options in India, consider both reliable alternatives and the certified MagSafe charger from Apple.
Also Read: What is MagSafe?
iPhone and Apple Wireless Charger Price in India
Given how wireless charging is evolving, finding the best MagSafe charger for your iPhone at a reasonable price is essential. The Apple MagSafe charger is compatible with the iPhone 12 series and has a suggested retail price of about INR 3,500 in India. However, several reliable alternatives are priced between INR 1,500 and INR 4,000, such as Megha Safe, UGREEN, and Spigen versions. Prioritizing compatibility, functionality, and overall user experience is crucial when deciding on the finest iPhone wireless charger pricing in India.
Also Read: What is the difference between Qi and wireless charging
MagSafe Charging Station
A MagSafe charging station is essential for users of Apple products since it enables the simultaneous charging of multiple devices, such as AirPods, Apple Watches, and iPhones. Magnetic alignment, quick charging, and an attractive structure are all features of a well-designed charging station. Among the top companies creating MagSafe charging stations are MagSafe and Unigen. MagSafe charging Prices in India for high-quality stations typically range from 5,000 to 15,000 rupees. To make a wise choice, give compatibility and design top priority.
3-in-1 Wireless Chargers
Also Read: The Best 3-in-1 Wireless pads for Magsafe Charger
A 3-in-1 wireless charger is the best space-saving option because it can simultaneously charge your iPhone, Apple Watch, and AirPods. Your desk is cleared of clutter thanks to this coordinated configuration, which also makes charging faster. In India, 3-in-1 wireless chargers from well-known manufacturers like Unigen, Magsafe, and Samsung are available at various pricing points. Prices are in the 5,000–15,000 Indian Rupee range. Think about compatibility, charging speed, and design when selecting the best 3-in-1 charger for your devices.
Multi-Device Wireless Chargers
You may effortlessly charge all of your gadgets, including Apple products and those from other technology names, using multi-device wireless chargers. Multi-device wireless charging systems by Unigen, Samsung, and Megsafe are offered in India for between INR 4,500 and INR 12,000 in price. Make sure the multi-device chargers you choose support quick charging, are compatible with your devices and match the aesthetic of your workspace.
Apple Wireless Charger India
–
Best Apple Wireless Charging Pad
Examining compatibility, charging speed, and pricing can help you find the finest Apple wireless charging pad in India. For users of iPhones, the official MagSafe charger is a dependable option. Other premium options include Unigen, multi-Device Wireless Charger, and Samsung products. These charging pads may be purchased for between INR 2,500 and INR 5,000. To guarantee seamless charging for your Apple devices, pick a wireless charging pad that fits your demands.
Also Read: The Benefits of Multi-Device Wireless Chargers: Efficiency, Convenience, and Style
Conclusion
Navigating the world of MagSafe accessories can be challenging, with many options for wireless charging pads, MagSafe charging stations, 3-in-1 wireless chargers, and multi-device wireless chargers. You may choose accessories that will improve your use of Apple products by learning their features and advantages and considering cost, compatibility, and design.  Take advantage of this guide to choose the best MagSafe accessories available in India and unlock the full potential of your gadgets through efficient and streamlined charging solutions.